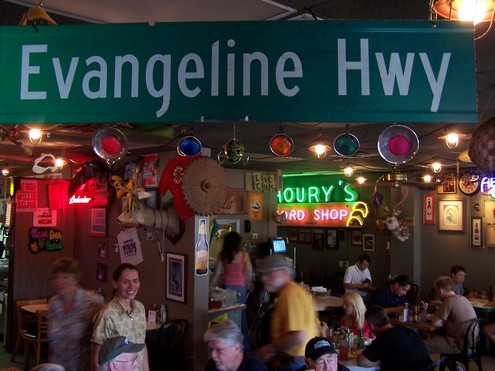 8106 Brodie Lane
Austin, TX 78745
512-28-CAJUN
http://www.evangelinecafe.com/
A couple of weeks ago, my friend
Eric
texts me and says "going to a wine tasting at Specs" so I thought, sure, why not go along for the ride. My current rate of wine tastings per week seems to be running about 1.5 to 2. What's another? What I didn't expect was the awesome 2nd Tuesday Specs Wine extravaganza. Apparently once a month, the Specs on Brodie does this ginormous wine tasting event. Its $10, you get a free Riedel glass then you sample wines from 10 different wine tasting stations. Each station has 2 wines to taste and you move around from station to station ultimately trying 20 wines. Now these aren't huge samples, probably the equivalent of one good swig per wine, but 20 swigs adds up to a nice buzz. In addition to the wine (which is a good enough draw for $10), they also have food tasting stations throughout the store. Everything from grilled chicken, to veggie sandwiches, to cheese. When we had made it around, I felt like I'd been teased and titillated with finger food want wanted some real food. I waited around for Eric to buy like 8 cases of St. Arnie's Winter Bock (you think I'm lying, it really was 8) and load them into his car. At that point I was getting hungry and cranky, and wanted some food.
The area around Brodie and Ben White always seems like it has so much to offer. There is literally every chain store on the planet in those 4 shopping complexes, plus within a 2 mile radius you have like 50 strip malls. It would seem on the surface to have a dearth of places willing to take your money, but food is not one of them. Sure you can have a
Cosi Sandwich
, a Chipotle burrito, or stir fry from Fire Bowl, but there is a surprising lack of decent sit down restaurants in that area. So, milling over the options in my head, I decided we needed to try someplace new.. someplace Cajun (cue the backwoods banjo music). I've been wanting to try Evangeline Café since I moved to town. I was extremely lucky that one of the few good restaurant options is Fort Worth was a pretty decent little Cajun joint. However, I knew when that Cajun place closed last year, that Fort Worth had finally sucked the soul out of everything good and pure that it managed to touch. It was time to move. Fast forward six months and I am in the same place. I still hadn't found a good Cajun place I could call my own. Now in all honesty, I haven't exactly been looking that hard, but I get serious jambalaya cravings from time to time and I really did need to find one. Since I live on the south end of town, I started there, hoping to make my way east, trudging along one etouffee at a time. Cypress Café on William Cannon left A LOT to be desired: overcooked, oversalted food that just wasn't all that Cajun (I'll spare you that review unless I'm required to eat there again).
That led me to Evangeline Café. I'd been hearing good reviews from various places for a while, and that jambalaya craving was starting to take hold of me. So
Eric
, a fellow food adventurer, and I headed down to give it a try. The Cafe is in a slightly run down strip mall down Brodie - waaaay down Brodie - so far down Brodie that
Eric
thought I was spiriting him away to Louisiana to get this fabled south Austin Cajun food. But, once you get inside, you totally forget you're in a suburban strip mall and are somehow carried by way of a Star Trek transporter, straight to the bayou. The walls were covered in tin and mardi gras decorations. The tables were mosaics of beer bottle caps. There was a great little Cajun band playing in the corner filling the place was a great party-like atmosphere. And the place was absolutely stuffed with people. We had to wait a few minutes to get a table, but in the friendly style of all things Louisiana, some guy offered to let us sit with him and drink a beer while we waited.
I quickly ordered and cracked open my favorite bad Louisiana drink staple, the Abita Turbo Dog. On its own, the beer is rather marginal, but it manages to always quench my thirst from a spicy attack of cayenne pepper. We managed to snag a table in the corner and started to peruse the menu. This is where the disappointments start. They didn't have hush puppies or gator tail! What kind of self respecting southern/Cajun restaurant doesn't have hush puppies or gator tail (grumble). But they had a decent selection of yummy smelling Cajun fair, gumbo, jambalaya, po boys, red beans and rice, and variety of other southern dishes like chicken fried steak. All very stereotypical Cajun food, nothing too extraordinary, but they did have jambalaya and that's really what I was craving. I think
Eric
ordered Gumbo, but like I had mentioned earlier, I'd been drinking and things are a bit hazy in my memory. We enjoyed the great Cajun band (who honestly was pretty good), and the fried bread they offered us as an appetizer. Yes, you read that right fried bread. I am now truly convinced that everything can be deep fried. Our food came out surprisingly quickly for the restaurant being as full as it was. And one bite proved why. The jambalaya was pretty crappy. It was an underseasoned, over tomatoey, dry lifeless jambalaya. Now, I know jambalaya is a real regional dish. There are a million variations. I happen to prefer my jambalaya wetter and tomatoless (in the south central variation jambalaya) rather than dryer and tomatoey jambalaya (the Creole variation). Either way, I didn't like the dry lifeless jambalaya at Evangeline's. But that's ok, because ultimately if I'm going to go back to Evangeline it will be for the atmosphere not for the food.
Bottom Line: Sucky Cajun food with an awesome atmosphere
Mariah: 7 (5 if you rate the rood alone)